By Tevin Mwenda Gitonga.
Access to information is a crucial pillar in any
democratic society
. The citizens of a country deserve to know what is happening in their country and public officials have the duty to inform their citizens on any important matters affecting them. This information should also be relayed in the best and most efficient method that will ensure a large majority of the citizens of the country receive the information.
The Federal Appeals Court (FAC) in New York, United States ruled that President Donald Trump does not have the right to block anyone on his Twitter account. The FAC stated that it was a violation of free speech for him to block people from accessing his account.  The case was brought by the Columbia University's Knight First Amendment Institute on behalf of seven people who had been blocked by the president for disagreeing with him over remarks he had made. The court argued that since the president used his Twitter account as an avenue in which he relayed important public messages that affected the citizens. He, therefore, had no right to block anyone from his Twitter account as it would be construed as denying the person access to information they are entitled to. President Trump had argued that the account was private and was intended for private use only. In addition, he also stated that the account was formed before he was the president. The court rejected this argument as it was shown he had used the account frequently to relay important public information.
This case offers an interesting perspective on how public officials use social media to relay messages and what can be construed as a private account or a public account that cannot be terminated or blocked. In Kenya the Constitution of Kenya under Article 35 states that everyone has the right to information held by the state. In addition, the state is required to publish and publicizes any information affecting the nation.
Kenya's Access to Information Act Section 5 (2) states that any information held by a public body should be availed to the people using the most effective method of communication in that local area. The Act appears to leave it to the person relaying the message to decide what the most effective method of relaying the message would be.
This, therefore, begs the question, can social media accounts of public officials in Kenya be construed to be channels that can be used by the public to access information from their elected leaders and other public leaders regarding them? Are those public officials allowed to block someone from accessing them as the Deputy President Mr. Ruto did on Twitter or even shut them down altogether as it happened with Uhuru Kenyatta's Twitter handle? A quick spot check on different social media handles of different leaders be it Twitter, Facebook or Instagram shows that Kenyan leaders are turning to social media now more than ever to relay messages on matters affecting the public. Social media has become an indispensable tool used to relay and facilitate access to information as guaranteed in the Constitution and the Access to Information Act. Social media enables this information to reach many people and thus achieve the objectives of the Access to Information Act.
Consequently, it would be interesting to see if the Kenyan courts would rule in favor of any of the parties who were blocked by the Deputy President on Twitter or any person who relied on the presidential handles to receive important information regarding States House to bring a case sighting that his right to access information has been infringed as they can now not receive important public information. Their rebuttal would maybe be the same one as President Trump's; who argued that his account was private and that he was entitled to choose who he wants to view or not to view his account. The court may have to now distinguish what would be considered to be a public account, that is used as an avenue for public communication and thus no one should be denied access and what is a private account in which the government official may block anyone who appears to be harassing them online. Currently the Kenyan courts have only ruled on information relayed via Media house and whether the information should be or should not be relayed to the public, for example, the Kenyan Courts ordered the government to pay 7 million shillings in damages to Standard Group for damaging their equipment when they raided their offices in 2006 and prevented the running of a story liked to the then first family.
It may also lead to officials having to have separate accounts one for official communication and one for their own private use. In the USA  Congress which would be the equivalent of the National Assembly here in Kenya, there are stipulated guidelines on the use of social media accounts in their Members' Congressional Handbook on the ethics of Congress. The handbook, for example, prohibits the use of government resources to maintain one's personal account whether that will entail new stuff or office funds. This has resulted in many congress members having to create new social media handles that are strictly for government official use only as they are not allowed to use those handles for any personal matters or personal gains. They are also required to clearly state that the account is only for official government use. This is done through the handle name given to the account as they start by stating the person's role in congress.
In conclusion, in the era of social media as the main tool of communication in Kenya, the time may be finally upon us to consider how elected leaders engage with the public on their social media accounts. There may also be a need for the creation, of social media guidelines for public officers. These guidelines would set out the rules for using government official hurdles to relay public information. They would also spell out what would be the consequences of using your private account to relay official government information. Social media has completely changed the ball game on how the public gets information from their leaders. Time has come for Kenyans to rethink how these changes affect us and our constitutional right to information.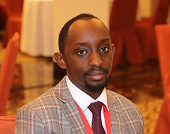 Tevin is a Lawyer, and currently a Researcher at KICTANET. He is also a budding Web Developer.