KICTANET POST : Latest news, events & opportunities
By Angela Minayo and Neema Mujesia On 2nd November 2022, KICTANet in collaboration with Unwanted Witnesses conducted a Masterclass on Utilizing data while safeguarding women's safety online during the 4th Privacy Symposium in Africa. The activity was part of the DW...
KICTANet is a multi-stakeholder Think Tank for ICT policy and regulation. The Think Tank is a catalyst for reform in the Information and Communication Technology sector. Its work is guided by four pillars of Policy Advocacy, Capacity Building, Research, and Stakeholder Engagement.
KICTANet's mission is to promote an enabling environment in the ICT sector that is robust, open, accessible, and rights-based through multistakeholder approaches. 
During the 2022 – 2024 strategic period, KICTANet has prioritised the promotion of effective multistakeholder participation; an enabling legal, policy and regulatory environment; building capacities and empowered communities; and institutional strengthening. KICTANet's guiding philosophy encourages synergies in ICT policy-related activities and initiatives. As such, the network provides mechanisms and a framework for continuing cooperation, engagement and collaboration in ICT matters among industry, technical community, academia, media, development partners, civil society and government.
_____
Strategic Priority.
Convening power. To strengthen and promote engagement, collaboration and relationships with relevant stakeholders (state, business and non-state actors).
Promoting an enabling environment.

To catalyse policy, legislative and regulatory reforms in the ICT sector.

Building capacities and empowered communities. To build the capacity of the stakeholders across government, business society and civil society and the citizens.
Institutional strengthening.
Read more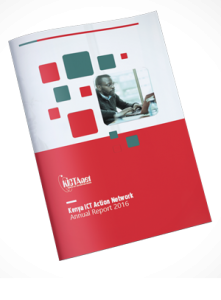 The report outlines the work undertaken in between 2007 and 2016 which is underpinned by crowd sourcing and community engagement
Click here to download the report
FACTS AND FIGURES
Achievement of the Network over the Years
Thought Leadership Forums
Conversations in KICTANET listserv
Active listers contributing often
Different conversation threads
Impressions on ICT policy discussions
Our Pillars
KICTANet's organisational strategy:
Featured publications
Reports, Manuals etc
Featured publications
Reports, Manuals etc