By Linda Gichohi
On the 8th of March, 2023, I represented the Kenya ICT Action Network (KICTANet) as a keynote speaker at the International Women's Day 2023 Commemorations at Makueni County.
The event was graced by remarkable women and organizations that promote gender equality, such as Equality Now Africa, Voluntary Service Overseas (VSO), Mobilization Agency for Paralegal Communities in Africa (MAPACA), Jumisha Initiative, and the Red Cross. Others were Salvation Army, Action Aid, World Vision, Makueni Youth in Sustainable Development, Kibwezi Disabled Persons' Organization (KDPO) and Ajira Digital.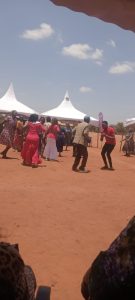 Government Officers graced the Celebrations at the national and county levels, namely, Department of Gender officials at Makueni County, County administration, Children Officer, DCC Makindu, SCA Kibwezi West, Entertainer; Mrs Zipporah Eric, Speaker; Catherine Zawala (Equality Now Africa), Ag. Chief Officer and other religious leaders.
The common denominator in the International Women's Celebrations conversations was the use of technology and innovations to promote gender equality, to empower the women of Makueni County financially and most of all, to address Sexual-Gender Based Violence (SGBV), which is prevalent in the region.
As a representative of KICTANet, I educated the masses and the women, especially on how to use technology to access justice and to prevent and respond to Sexual-Gender Based Violence (SGBV) within their society. Most of the SGBV cases in the region include defilement, rape and domestic violence.
However,  many perpetrators go free due to lack of evidence, low crime-rate reporting,  and lack of awareness of the justice channels available for response and prevention of Sexual Gender-Based Violence.
I talked about how technology can be leveraged to respond to Sexual-Gender Based Violence, for example, through the use of mobile applications, hotlines, evidence management systems, and community-based campaigns. In addition, support groups, through social media, bulk messaging, surveillance cameras, and online-reporting systems. Additionally, technology can be used in training and education to raise awareness of SGBV, governing laws and how to ensure access to justice for survivors using a multi-sectoral approach.
KICTANet has been on the frontlines in tackling Online-Gender Based Violence (OGBV) in the country, starting with a study conducted in 2011 and later updated in 2014 on the Dark Side of ICTs.  The Network has also offered training and advocated for a safe space in the digital world for everyone, especially women who are the most affected, to enable them to thrive online. This is to ensure that women are able to take advantage of the numerous opportunities offered by the digital space.
In the Spirit of Gender Equality, the Kenya ICT Action Network is headed and convened by a woman, Grace Githaiga, a trailblazer and mentor in the ICT world. This in itself is a major step in the right direction of promoting gender equality in the digital space and technology ecosystem.
Overall, technology has played a significant role in preventing SGBV in Kenya. By leveraging technology and innovations, it is possible to create a safer and more supportive environment for survivors of violence and promote gender equality and equity worldwide.
KICTANet has been able to buttress this year's #IWD theme and objective through policy advocacy, research, stakeholder engagement and capacity-building. #EmbracingEquity.
__________________________________________________________________________________
Linda Gichohi is a Lawyer and a Member of the Kenya ICT Action Network. She has an interest in women's digital rights and access to justice for technology-facilitated violence.