Dear KICTANeters
We would like to invite you to attend our global online Better World Summit, which will be held on July 27th-29th, 2020 and is entirely free.
The pandemic has changed the world around us, touching on every aspect of work and life. Throughout this process, ICT infrastructure has proven to be a potent bulwark in our fight against the coronavirus and the broader social challenges it brings.
This summit is designed to explore how ICT can be used to more effectively combat the spread of COVID-19 and boost post-pandemic economic recovery.
Alongside telecom carriers, regulators, analysts, media, and our partners around the globe, we will delve into how ICT is providing new value in a wide range of fields, including telemedicine, remote education, telework, and public health services. And we will also explore the strategic foundations it lays for a brighter, more prosperous tomorrow. It is several hours split over 3 days, though the July 29 will focus more on policy and may be of interest to those on the list.
Here is the agenda for the July 29 Policy related session.
[blob:https://web.whatsapp.com/c21cb8f1-5fa0-4122-ae35-1b7d0815c223]
?Time
Topic
Confirmed Speakers
16:00-16:15
Huawei?
Share the responsibility, Build the Future
Catherine Chen
Corporate Senior Vice President and Director of the Board, Huawei
16:15-16:55
International Industry organization:
Accelerating Digital Inclusion to Embrace the New Normal
Mario MANIEWICZ, Director of Radio communication Bureau, ITU
Derek O'Halloran, Head of the Shaping the Future of Digital Economy and New Value Creation, WEF
John Giusti, Chief Regulatory Officer, GSMA
Luc Hindryckx, Director General, ECTA
16:55-17:45
National regulatory/industry association?
Strengthen the development of ICT infrastructure and digial economy
Wei Liurong, Deputy Chief Engineer of Policy and Economic Research, China Academy of Information and Communication Technology
Mrs.Vunnaporn Devahastin, Secretary-General of the National Digital Economy and Society Commission, Thailand
Stella Tembisa Ndabeni-Abrahams, Minister of Communications and Digital Technologies, South Africa
Alexander Rabe, CEO of ECO, Germany
17:45-18:00
Analyst?
How ICT Industry Policies and digital economies Boost National Economies
Stuart Carlaw, Chief Research Officer, ABI Research
Rajesh Duneja, Partner, Head of Regulatory Competence Centre, ADL
Please view the entire agenda and register here:
carrier.huawei.com/en/events/bws2020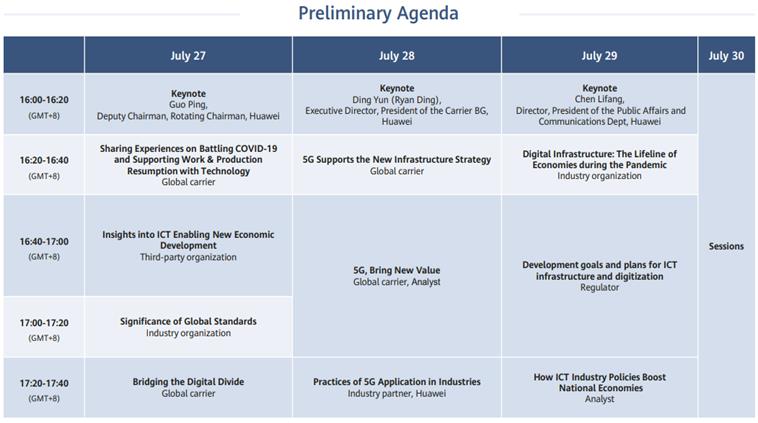 image004.png@01D65492.C1312470"/>
_______________________________________________
kictanet mailing list