KICTANet together with other UK Digital Access Program partners (ACWICT and APDK) held training for Community-Level Trainers on Cyber Hygiene at Desmond Tutu conference centre in Nairobi, Kenya, on 29th June 2022. This training is aimed at equipping members of the community, the youth, women, and persons with disabilities – with practical skills on how to stay safe online, and while using computing devices. The students will cascade the training at the community level since this was a Training of Trainers.
Cyber hygiene is the practices and steps that users of computers and other devices routinely take to improve their online security and maintain system health. Indeed cyber hygiene can be compared to personal hygiene practices to maintain good health and well-being, as cyber hygiene practices and precautions taken by users to ensure the safety, security and protection of data while maintaining the proper functioning of devices to protect them from outside attacks.
The 41 participants

21 Female

20 Male
The participants were taken through how to keep money safe online, on social media and on messaging safety. Other areas were device hygiene – how to secure devices, backups, maintenance, and encryption, and use of shared devices. They were also taken through an instruction manual on how to perform onward training from the content learned.
There was great participation in the training, and also through slido.com which allows participants to ask questions, take live polls, and word clouds.
Internet Cyber hygiene
In an interesting survey, most participants use Twitter, LinkedIn, Instagram, and Facebook.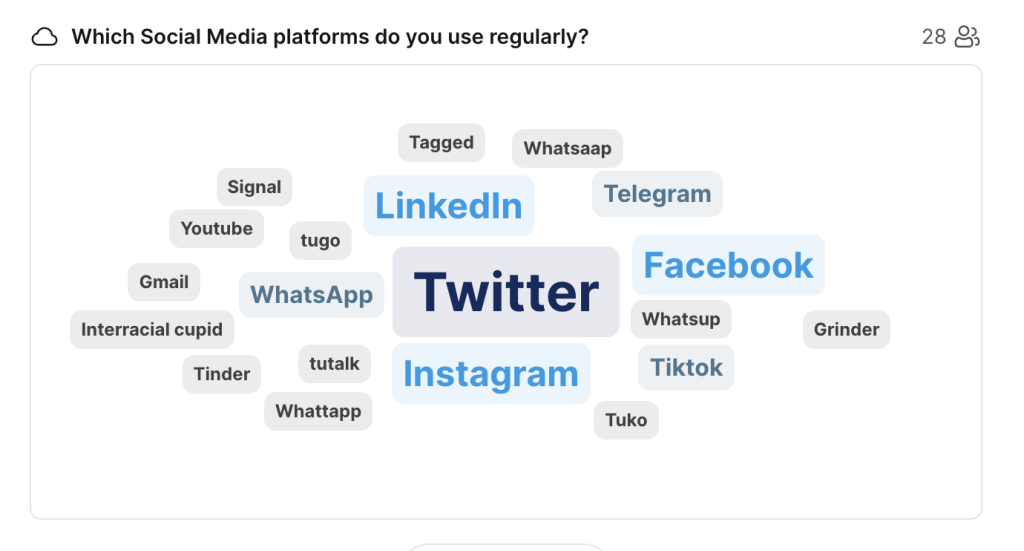 More to follow after the training …