In November 2019, the APC-LOCNET peer members Chako and Patrick from DRC, South Africa (Gladys) and Malawi (Vigilant representing James) and I arrived in Kampala for the peer exchange travel to BOSCO Uganda, Africa's largest community network located in Northern Uganda. We were received by Solomon who unfortunately had not slept the previous night as the car developed mechanical challenges on his way to Kampala. After picking me from the airport in Entebbe, Solomon and I had spent the morning hours at the mechanics who promised that the issue had been resolved. We set out for Kampala to pick the rest of the team and then head to Gulu, approximately 335 km by road. Our journey started 1400 hrs EAT but a few minutes into the journey the car started having the same issues as the previous day. Traffic in Kampala was also terrible, dwindling our hopes of continuing our plans. Luckily for us, Solomon was able to secure a ride for the team from one of BOSCO Uganda's friends but unfortunately for him he couldn't leave the car in Kampala so he opted to drive slow and carry water in case it started overheating. We arrived in Gulu at 0230, at the same time with Solomon. We got to rest for a few hours and were joined by our colleague Immaculate and Lilian Achom (AfChix Womenconnect project manager).
Our day 1 in Gulu started with the team visiting BOSCO's offices and were welcomed by Father Joe Okumu (co-founder) and staff. Father Joe and George Oduoch (BOSCO project manager) gave presentations on the history and present operations of the organization. The organization was initiated in 2006 and started operations in 2007. The organization has its roots in the Catholic church and is under the trusteeship of the Archdiocese of Gulu. Due to the civil war, it was difficult for people to move from one place to another thus the purpose of the network was to enable communication for the community and the catholic priests. BOSCO Uganda started by providing VOIP (Voice over IP), intranet and internet services in 6 Internally Displaced Persons (IDP)camps in the District of Gulu and Amuru ending isolation experienced by people living in the camps. Since the North was not connected to the national electricity grid, the network was built to be powered by solar electricity. It was impressive to learn how BOSCO Uganda was leveraging on local and international partnerships for its operations. Building a network infrastructure that spans over 160 km requires huge investments. Partner organizations such as Horizont3000, UNICEF, local radio-FM Stations, University of Notre-Dame, local FM radio stations have contributed to BOSCO Uganda's growth and sustainability.
Our afternoon was spent with the technical team who took us through the network infrastructure design, deployment and operation processes. We learned that BOSCO Uganda is registered with the Uganda Communication Commission as using the 802.11 unlicensed spectrum for its operations to reach communities. The network infrastructure uses unlicensed spectrum IEEE 802.11(b, g, n, ac) (2.4Ghz & 5Ghz). The organization has managed to establish partnerships with FM radio stations who host their equipment, in exchange the radio stations get internet connectivity. The network uses mostly Ubiquiti Networks and Mikrotik Router Boards equipment which is selected based on power consumption, performance and ability to work in high temperatures. Software being used at BOSCO is mostly open-source for example Linux, WordPress/Drupal, Cacti, and Nagios.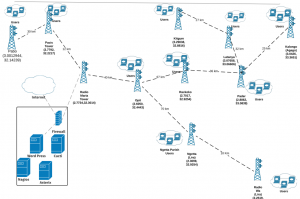 Network Diagram of BOSCO Uganda. Used with permission from BOSCO Uganda
We spent the next 2 days visiting different BOSCO Uganda centers. Currently, the organization has a total of 54 centers in the districts of (Gulu, Amuru, Nyoya, Pader, Argago, Kitgum, Lamwo, Oyam, Omoro, Lira, Adjumani, Yumbe, Arua districts. There are centers in refugee settlements Pagirinya, Maaji, Bidibidi, RhinoCamp, Nvempi, OmugoII in partnership with UNICEF. At one of the centers, the youth shared with us stories of what happened during the war, how it affected their lives and identity. In many African cultures, places were named after events and for a very long time the region named villages after events that happened during the war in the local Acholi dialect. However post-conflict, they are currently working on peace and restoration and are even renaming places that previously had war-related names. The rebuilding process takes time and it requires dialogue and mediation. BOSCO partners with local and international organizations in peace rebuilding efforts and host community meetings from time to time. They promote community empowerment through ownership of ICT centers, training on ICT and Solar systems using TOTs model and entrepreneurship training. The centers have income-generating activities such as photocopying, document printing, photography, document lamination and Village Savings and Loans (VSLA).
We also visited the organizations' with solar power plants. Through a partnership with Horizon3000, the organization ran the CE3(Connectivity, Education Entrepreneurship and Electricity) Project and established large energy systems (6KW, 30KW). These were installed in secondary schools and collect payments from the schools and surrounding communities depending on the usage of electricity which is quite affordable and reliable. As the organization works towards achieving financial sustainability, they plan to leverage knowledge and expertise to provide solar energy to the community, businesses, and institutions.  This requires quite a substantial amount of investment but they are taking steps towards making it a reality.
As we concluded our trip, we wished that we could have spent more time learning and interacting with the team and staff. We were in awe of the sacrifice, commitment, and resilience of the BOSCO team in operating the network and the vision from their leadership to ending the isolation of the Northern people. Like many other community networks, this has been achieved in spite of the odds against them such as high costs of internet, poor road infrastructure, few members of staff and limited government support.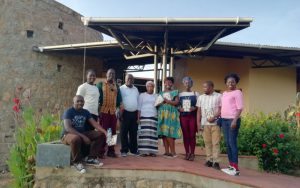 BOSCO overhead Solar panels. Photo by Lilian Achom
Our exchange travel ended with a visit to Paimol where Father Joe's hosted us for a late lunch at his residence. He shared his vision to expand the network to South Sudan and hoped that he will receive support from existing and new partners. This and more can be achieved by creating an enabling policy and regulatory environment so that BOSCO Uganda can also support the growth of community networks in Uganda and Africa.
Josephine Miliza is a network engineer passionate about enabling communities in Africa to leverage digital technologies for socio-economic empowerment. She is currently the Africa regional coordinator for the APC-LOCNET project working under KICTANET. Twitter – @jossie.miliza.