Grassroots women are powerful agents of change and the backbone of our communities. They make valuable contributions to the economy and society. They are actively involved in activities such as managing community natural resources like water, food production, family care, children's education and many more. Because of their critical role in shaping the present and future generations, we must create an environment that enables women to thrive and fully achieve their potential. However, women are always left behind in the development agenda, their contributions never heard or ignored. In most interventions to promote equitable access, from the creation of technologies, policies, programs, women, especially those at the grassroots level are often treated as passive beneficiaries.
Access to the internet, digital devices, and digital platforms offer women endless opportunities to learn, start or grow their businesses, increase their income, get access to financial services and new and better markets for their products. However, challenges such as high cost of mobile phones and internet, low literacy levels, digital illiteracy, lack of relevant digital platforms targeting their needs, socio-cultural norms and lack of awareness continue to promote gender-based digital exclusions. Bottom-up connectivity models such as community networks due to their holistic approach in promoting digital inclusion offer a solution to closing the gender digital gap. Community networks in Africa are already addressing this gap through capacity building for women to fully utilize the internet for socio-economic empowerment, development of applications that address the challenges faced by grassroots women and provision of hotspots in areas where women feel safe to access the internet.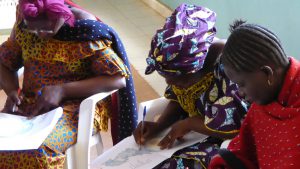 Salama Application co-design session with women in DRC – Photo Credit Ensemble pour la difference
An example of a community network that is closing the gender digital divide is PamojaNET. It is a community network championed by Ensemble pour la difference located in Idjwi Island on Lake Kivu, Eastern DRC. The network provides internet access to the local community and businesses. The team carried out research to understand user demographics and usage patterns and one of the results was that women accounted for only 23% of the network users. Through raising awareness of digital technologies and digital literacy training, Ensemble is increasing women's participation in technology.
Additionally, Ensemble delivers locally relevant platforms that are relevant to the needs of the women in the community. They use the human-centered design approach to conduct research and also co-design the applications with the targeted women. One such application is the Salama application, an emergency response service that enables users to raise an alarm for help from family and friends in case of an attack. Another example of a community network is BOSCO Uganda that not only provides women centers with access to the internet and computers but also provides training on digital literacy, entrepreneurship, and leadership.
With the rapid digital transformation, it is vital to ensure that no one is left behind, especially women to boost economic growth and build a more inclusive, digital world.
Josephine Miliza is a network engineer passionate about enabling communities in Africa to leverage digital technologies for socio-economic empowerment. She is currently the Africa regional coordinator for the APC-LOCNET project working under KICTANET. Twitter – @jossie.miliza